When it comes to business training, it doesn't get much better than David T.S. Wood. Recognised as one of the world's leading personal development trainers, David will deliver world-class training to help reignite your self-belief, realign your objectives and redefine your individuality. It's time to advance your knowledge of the network marketing industry and focus on your personal development.
What makes UIA different?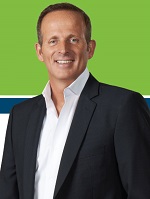 Step outside your comfort zone with David's practical and interactive training that focuses on building your understanding and growth, and changing the way you approach the business. He will teach you how to prospect, enrol and build long-term relationships, as well as how to get your people paid.
As part of a carefully-crafted, 2.5 days agenda, David will guide attendees through the key areas of belief needed to become successful network marketers by breaking down doubts and concerns and helping you to move past any fear of rejection. Bring your teams along and not only will they have the opportunity to practice systems and use templates to help grow their businesses, but also to gain confidence in the industry, the company and themselves.
David is known for his ability to read his audience and move people to the next level in their lives, making his programmes exciting, engaging and fun. Perfect for beginners, part-timers, full-timers and experts to work together in a dynamic setting, this interactive training is a great opportunity to initiate friendships and connect with like-minded people. On a more personal level, the practical training pushes individuals to action what they have learned and immerse themselves in personal development.
You'll leave this event with newfound belief and lifelong friends!
Tickets are selling fast! 
As any Isagenix Leader will tell you, nothing builds belief like an Isagenix event. Attending a UIA (Sneak peak of what UIA is all about) will educate, motivate and inspire you and your team, and set you on the path to health and business success. Tickets are selling fast, so don't miss out! Get your tickets now via your Back Office. You can see all the event details below: